Thatching - Seeding - Fertilization
Proudly Servicing North Seattle to Everett and the East Side north of the 520
February 15th – November 10th
(Depending on weather)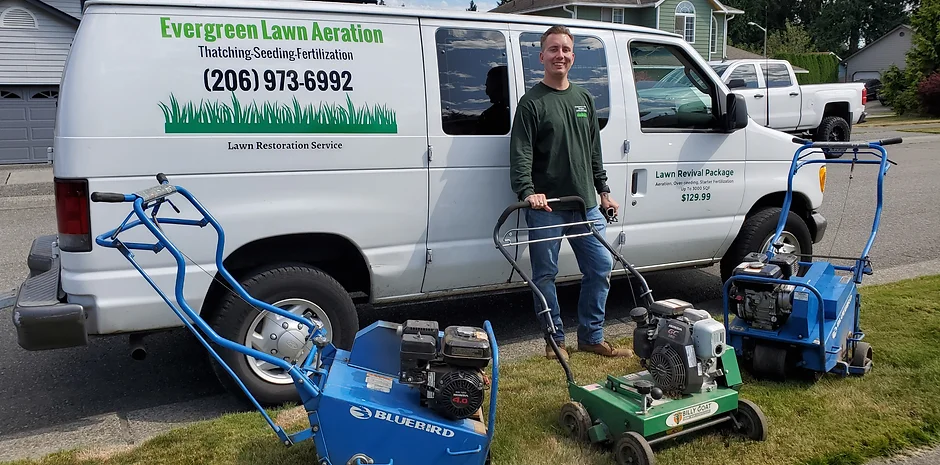 Let's Beautify Your Lawn Together!
We are a professional lawn restoration service specializing in core aeration, de-thatching, seeding and fertilization of Pacific NW lawns. We proudly service North Seattle up to Everett and the East side north of the 520 using the best machinery and products. We aim to not only meet your needs, but also exceed your expectations of what a Lawn Restoration Service can do for you and your property.
Locally owned & operated out of NE Seattle
For service on the East side, a $9.00 travel fee may be added
We accept all major credit cards using Square Mobile Software
Shawn Miklautsch
2023-05-11
Friendly and knowledgeable crew. Gave doable suggestions for a healthier lawn. Very reasonable pricing. Will definitely use them again.
Thebest!
I would highly recommend, I had everything done, aeration, seeds etc. The first picture is the day before they came out. Second picture is 13 days after !
Fast and done right.
Marcie Klobucher
2022-06-01
We have been using Mike's lawn aeration service for several years. We couldn't be more pleased with Mike's exceptional customer service, dependability, quality, and prices. Look no further - hire them!
I hired Mike and his team to thatch, aerate, reseed, and fertilize my lawn. I was impressed with his responsiveness, professionalism, quality of work, and reasonable rates. My lawn was raked twice, once after thatching and the second time after aeration and reseeding. I highly recommend this company and will use them again!
Teeder Mueller
2022-03-22
Mike and his team are the best! VERY reasonable price for quality work. The grass seed he uses is specially formulated for the Seattle climate.
Excellent service.
Cedron Sterling
2022-03-20
Mike is very conscientious. I thought we would need aeration and thatching. After checking the lawn, Mike told us the thatching wasn't necessary because there wasn't sufficient moss to justify it. This lowered our bill. Thank you Mike!!
We are results oriented and dedicated to building lasting customer relationships to help keep your lawn looking its best.